December Calendar
Blogger Update: Travis, from the Lone Star Cats has posted an update today about his Grandpa. You might remember that his Grandpa was hit by a car while he was out walking. You can check out the latest HERE
Cats of the World Weekly Planner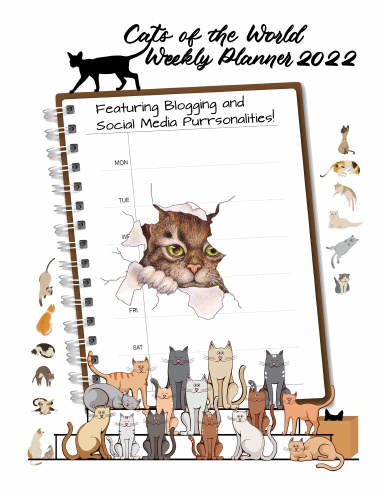 2022 Cats of the World Weekly Planner
It's finally complete and ready for purchase. The cover design this year is by award winning author and graphic artist,

Deb Barnes

. The cost went up a little bit because of everything that's happened the last two years. There is currently a 15% discount that ends tomorrow. Use code THANKS15 | Offer valid through December 3. I'll share more codes as they are available!
USD 31.00
Purchase at bit.ly
/3dhU8yh
Usually printed in 3 – 5 business days
The Cats of the World 2022 Weekly planner is filled with full-color photos of blogging cats from around the world. Each week features a 2-page spread with a color photo of a cat and weekly slots with writing prompts and cat celebrations. There is plenty of room to add additional notes on each weekly page.
Blessing Train – Deadline 12/20/2021
Shop With Blogging Friends
Winnie's Wish Auction
There's a new auction that startedon November 19th to benefit Winnie's Wish cat rescue and sanctuary. Just in time for Holiday shopping! Items for you, for pets, and for pet loving friends! New items will be added all the time. This will be in the Insta-Auction format, meaning anytime an item gets it's first bid a five day timer starts, at the end of the three days, that item will be won by the highest bidder. This means items will be coming and going at different times during the month long auction. All bidding on all items will end on December 11th. Be sure to stop by, hopefully more than once, and see what's up for bids to help the kitties!
Blog Hops
Cat Blogging Daily Links
Thanks for stopping by today, we're glad you're here. Please leave your link to your blog post below and hop around and visit lots of others!